Products we offer:

Disiccant Dryers

Refrigerated Air Dryers

Oil Water Separators
Compressed Air Filters
Drain Valves

Brands we carry:

Van-Air

Parker Domnick Hunter

Air-Tak

Air Dryers

The heated and heatless regenerative desiccant dryers we offer for compressed air can handle flows from 3 to 5000 scfm, with options for energy-saving controls, portability, factory-mounted filters
and 3-way bypass valves.

Refrigerated Air Dryers are designed to provide water-free air with low operating costs and
requiring minimal regular maintenance. These dryers provide a 38°F outlet pressure dew point. Models
rated for air flows of 10 to 15,000 SCFM are available with air or water-cooled condensing units
that meet a broad variety of installation requirements for flow rates, operating pressure and air
temperature.

Call us today at 800-536-3755 for more information.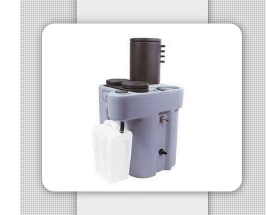 Water Separators

Water separators are used to protect coalescing compressed air filters against bulk liquid contamination, where excessive cooling takes place in air receivers and distribution piping.

Using mechanical separation techniques, our water separator filters will remove in excess of 92% bulk liquid contamination from compressed air at all flow conditions.

Call us today at 800-536-3755 for more information.


Compressed Air System Filters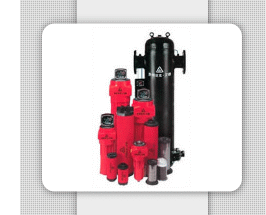 Our Compressed Air System Filters are available in capacities from 10 to 10,000 SCFM. Aluminum filter housing are available with 1/4" to 3" NPT connections and can operate at up to 300 PSIG. Carbon steel ASME coded filter housings are available with 3" to 10" flanged connections and can operate up to 150 PSIG. Filters are also available for high pressure, high temperature and special applications.

A complete line of Compressed Air System Filter Accessories including Automatic and Solenoid Drain Valves, Automatic Float Traps, Motorized Ball Valves, Differential Pressure Indicators and Gauges are also available.

Call us today at 800-536-3755 for more information.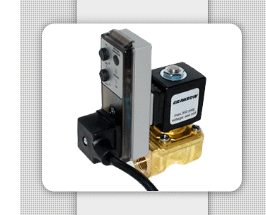 Drain Valves

Our Electric Drain Valves quickly and effectively drains water from compressed air equipment. This electronic drain valve is available with 1/4", 3/8", or 1/2" connections, and will operate at up to 300 psig.

An optional strainer/filter combo is available.

Call us today at 800-536-3755 for more information.